High performance. Availability, Reliability & expandability.
IOmeter Build 2004.07.30 simulation test for File Serving application performance with configuration of 50-TB SATA & SAS combo drives set to write cache enabled, serial Attached SCSI, ISCSI ports and 10G/s TOE Gigabit ports, indicates 1,200MB/s w/ RAID 5EE and integrated hot-spare based on 3.0GB/s SATA configuration.
Cepoint R-STOR™ Rx 8500/8600 series Big data/ Cloud infrastructure kits using Serial-Attached SCSI (SAS-II 6.0GB/sec or/SATA-II (6 3.0 or 6.0GB/s)/SATA -NAS Storage systems, and SATA-RAID offer up to 100TB Storage in 8U (14") Rack Space and 1,000TB in one array system.
R-STOR™© Series Storage ,NAS Solutions 50/62 Drive Bays/50TB/72TB/96TB/100TB/250TB
Rugged customized Raid Storage Solution, NAS or DAS optimized for high availability, high performance computing and Real-Time data storage or streaming applications. Scalable to Unlimited data capacity.
iSCSI NAS and Fibre-Channel Target Solutions
Unlike most Storage solutions out there, Cepoint's Enterprise storage solutions are High Performance, High availability systems designed and built for Clustering and super computing platforms or Enterprise content management where Real-Time data storage and access is essential. R-STOR™ and P-STOR™, NAS or SAN, SATA/SAS, IP Storage, iSCSI, SCSI and Fibre-Channel RAID Storage & Systems and SUB-SYSTEMS are used in Scientific Research & Development Institutions, Real-Time Video Streaming and HDTV studio production, post-production and content delivery. OEM PRICE LIST*** General Price( March 2008). Please email Sales[@]cepoint.net for current prices and custom quotation.
Big Savings
. Secure IP. Remote access and data replication via worldwide web, Internet or LAN. Easy DAS/NAS/SAN deployment. GUI manager and many other features for less than most enterprise high cost and hard to manage storage systems! Compatible with major 3rd party vendor software and switch systems, including Qlogic, Veritas software, Computer Associates' BrightStor Back-up, Brocade and many others.
Your Enterprise storage source for SATA RAID, NAS, SAN and RAID Storage servers and sub-systems just got better with
iSCSI NAS, SATA Appliances and Secure Remote data replication
with ease
.
Cepoint CLOUDSTOR™ SAS /SATA or Serial Attached SCSI (SAS)/SATA, SCSI or Fibre-Channel NAS solutions. Rx and RA 200/300/400/500/8000 Series Rack mount Storage Systems are flexible and Scalable modular systems. Up to 6GB/sec Data transfer rate! Two ports, 2 or 4Gb/s iSCSI or Fibre channel or 10Gb/s Ethernet connectivity and Secure remote data replication options.
Plug and Play

RAID Levels 0, 1,5, 6, 10,50 , 60 and JBOD support

GUI (Graphical User Interface)

Auto-Sensing SAS II - 6.0GB/s,Serial-ATA-II(3.0GB/s)/ SCSI/SAS modules

Auto-Rebuild

Up to 6GB/sec SerialSCSI data transfer rate

Up to 2/4GB/s /10GB/s NIC or Fibre host data rate

Quality components

Multiple logical unit sizes and RAID levels

Remote management features

Reliable and maximum uptime

Multiple Operating system compatibility

SNMP support

SMPT support for Email/Page Notification

Battery Backup Unit (BBU) support

In-band/Out-band management support

Browser GUI manager and CLI (Command Line Interface) support

Enterprise wide systems compatibility

Hot -swap and hot spare support for continuous availability.

S.M.A.R.T. NCQ disk drive support for reliability

Battery Backup Unit (BBU) support
Cloud and Virtualization Applications Includes:
HDTV Video content Storage

VoIP/ Telephony Data center

VOD (Video-On-demand)

Video Surveillance Storage Archive

Large scale health management data storage

Financial Institutions

Enterprise Data center

Remote Secure Data center

High Performance Cluster storage

Streaming video server
Rx8600 Public cloud or Private Cloud or Enterprise solution is designed for Large contiguous requests and writes, making the unit perfect solution for Real-time media capture storage, Medical Imaging, High end video surveillance, aerial imaging and photography archiving.
Excellent for Simultaneous multiple client & server access in real-time
Highlights:
Up to 62 (4-TB)drives in 8U (14" (inch) rack space 19" rackmount and 29" (inch) depth

Enterprise power with economical pricing

Single or Dual active/active RAID controller

Easy to Install and deploy

Supports RAID 0, 1, 10, 5, 5EE, 6, 50, 60

250TB- Single management point

Up to 5126GB cache memory

Industry standard compatibility

Dual 4GB Fibre Channel ports and Dual-iSCSI ports /(optional 10GB/s Ethernet)

Fail Over NIC (Network Interface contrl)

Multiple RAID sets and volumes support

Plug-N-Play. No steep learning curve

Hot-swappable thermostatically controlled cooling fan

deigned and built for Industrial environment

Easy Web browser GUI (Graphical User Interface) configuration

Compatible with most old legacy systems

-48V DC-DC power supply option
Enterprise solution with BIG savings on total cost
of ownership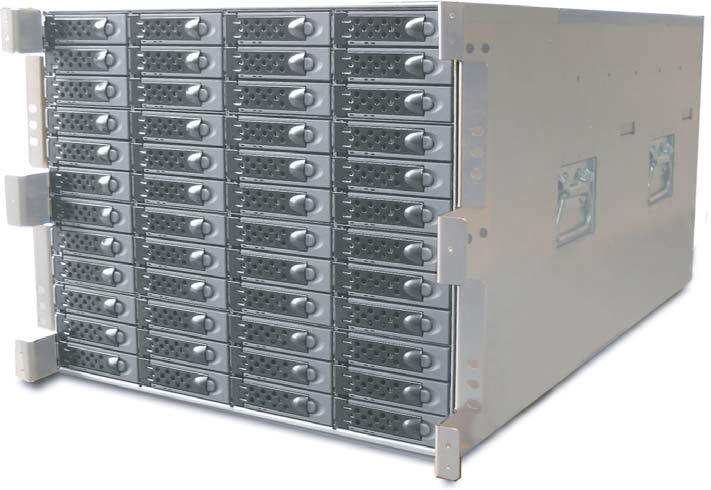 Sample Photo -Rx8500 High performance Cloud-STOR™ 48/50TB /96 TB or 250TB Enterprise Storage Solution
OVERVIEW
Rx8500/8600 NAS series are Fail-resilient, High performance IP Storage, iSCSI NAS or FC Storage solutions from 24TB to 250TB, scalable to Petabytes physical array, and Unlimited virtual Object storage. Enterprise SAN or NAS storage solutions providing blazing performance, high data availability, maximum user productivity and storage reliability utilizing it's excellent and high quality component resources. Its hot-swappable, front-loading, disk drives and RAID 0, 1, 5, 6,10, 50 and JBOD support + hot spare capabilities, as well as dual iSCSI or 4GB/s Fibre ports option, and dual or Quad Gigabit Ethernet network interface with load balancing and failover capabilities ensures fast data protection and recovery.
Cepoint's RX8500 is one of the rear Storage solution in the industry with Unified storage technology; utilizing Serial Attached SCSI (SAS) /Serial-ATA 6.0GB/s ) making it ideal to switch usages as a NAS solution or SAN Cloud infrastructure solution
RS-8500 /8600 CLOUD-STOR™ Enterprise Storage Product Features:
| | |
| --- | --- |
| Operation System : | OS independent and Transparent |
| CPU : | PowerPC 64-bit RISC microprocessor |
| Processor : | RISC |
| RAID Level : | 0,1,3,5,6,0+1,10, 50, 60 and JBOD (depends on model) |
| RAID Architecture : | Multiple RAID |
| Cache Memory : | Up to 512GB SDRAM With ECC on board |
| Dual Controller Capability : | Yes (option) |
| Battery Backup : | Yes (option depends on model) |
| IP SCSI or FC Architecture : | Multiple ID & Multiple LUN |
| Channel to Host : | Gigabit NIC,/iSCSI/FC-AL (specify) |
| SAS/SATA/ 6.0GB/s3.0GB/s Channel to Device : | Max. 62 /Minimum 12 |
| Data Transfer Rate : | Up to 3.0GB/s or 6.0GB/s |
| Devices support per Channel : | 24 |
| Disk Drives : | Up to 62 drives (depending on model) |
| Tagged Command Queuing : | Yes, up to 512 Commands |
| Stripe Size : | Variable |
| Write Option : | Write through or Write Back |
| Hot Swap : | Yes |
| Hot Spare : | Yes (rebuild Transparently & Automatically) |
| SAF-TE Enclosure Management : | Yes |
| On Line Expansion : | Yes |
| User Friendly GUI man : | Yes |
| Remote Alerts : | SMTP email/ Fax, Pager |
Rx-8500/8600 Product Specifications:

Drive Bay Provided


Free Qty

Varies (zero when fully populated from factory)


Total drives Qty

62/48/24/depending on P/N quoted)


Type

Hot-swap
Cabinet


Chassis Built-in Devices

Status Alarm indicators/Excellent cooling fans and temp management


Chassis Form Factor

19" Rack-mountable


Chassis Installed Devices Modules

24- Minimum /50-Maximum drive options


Chassis Supported Devices Modules

Up to 50


Chassis Type

Heavy-duty Storage cold rolled steel cabinet
Dimensions


Depth

29"


Height

From 10" up to 14" (max) depending on model or P/N


Weight

120lbs - 195Lbs (approx; fully populated with 24 drives) varies


Width

19" (17" without rack mount ears)
Environmental Parameters


Humidity Range Operating

15 - 90% RH


Max Altitude Operating

10,000 Ft


Max Operating Temperature

55 °C


Min Operating Temperature

0 °C


Vibration Tolerance Storage

2 G @ 5-500 Hz
System


Compatibility

Windows 2003/NT, Linux, Unix operating software


Manufacturer

Cepoint Networks, LLC


Models available

4U, 5U, 8U 19" rack mount models available


Packaged Quantity

1


Product Line

Cepoint Storage Raid array Sub-system
Interface Provided


Connector Type

2xiSCSI- or SAS, RJ-45, Fiber-channels, Gigabit NIC options available


Interface

Ethernet 10Base-T/100Base-TX/1000Base-T x 2


NIC

4 x(10GbE/s option) Gigabit / or iSCSI
Miscellaneous


Height (Rack Units)

8U (19"W x 14"H x 29" D)
Networking


Compliant Standards

IEEE 802.3 802.3z 802.3U


Data Link Protocol

Gigabit Ethernet, Serial-SCSI , iSCSI or 4-GB/s Fibre options


Form Factor

Integrated (option)


Network Transport Protocol

TCP/IP, AppleTalk protocols, SMTP, FTP


Remote Management Protocol

SNMP


Type

Embedded Network Interface Adapter
Power Supply


Form Factor

Plug-in module


Frequency Required

50/60 Hz

Power Wattage (Operational)

Redundant 1650Watts x 3 +1 (depends on confi


Type

Power supply - hot-plug / redundant


Voltage

AC 100/240 Volts (-48V DC optional)
Service


Support Details Full Contract Period

3 year parts and labor


Support Details Location

Factory


Support Details Service Included

Phone consulting, Parts and labor


Support Details Type

Technical support, Limited warranty


Warranty

3yr on system. 3 years warranty on drives.
Slot Provided


Type

Hot swappable
Software


Type

Drivers & Utilities: Windows and Linux
Storage


Type

Hard drive array 12TB to 250TB can be daisy chained to PB's
Storage CD/DVD


Type

1 Slim CD-ROM (depends on model or config) option
I/O


Type

RS-232, FCI Ports, RJ-45
Storage Controller


Controller Interface Type

SCSI-to-SATA-II/ 6.0GB/s or SAS


Form Factor

Integrated


Installed

1 min. 2 max Standalone/ or 1 shared


Max Storage Devices

16/24 to 50


RAID Level

RAID 0, 1, 0 + 1, 6, 5, 10,60,50,JBOD (depends on model)


Supported Device Type

Fibre-Channel serial-SCSI or SATA-3GB/ SAS-II 6.0GB/s


Type

RAID /Network Storage
Storage Hard Drive


UnFormatted Capacity per drive

12TB Up to 96TB for total Cap. per system)


Installed

24/ 62 drives


Interface Type

SAS/ SATA (internal), or SCSI or Fibre-channel options


Max Cap.

48TB /or 96 Terabyte Max. raw


Type

Hot-swap
Storage Removable Modules


Type

HDD carrier
System Requirements


Operating System: Transparent,

R-STOR™ operating system independent and will support:

Microsoft Windows 2000 / NT4.0/XP/Me, Red Hat Linux 6.2 or later, HP-UX 11.0 or later, IBM AIX 4.3.3 or later, Microsoft Windows 95/98, Apple MacOS 8.0 or later, Microsoft Windows Millennium Edition, UnixWare 7.1.1, SCO OpenServer 5.0.5, SunSoft Solaris 7
Control I/O


Type

RS-232 & DB-15 VGA Terminal control
CePOINT Networks provider of Storage systems,62-bay enclosure,48-bay NAS encoluse,SAN,NAS,iSCSI,6GB/s SAS,Raid controller,video storrage,SCSI Raid,Raid servers


Contact us:

sales[@]cepoint.com .603.883.7979/ www.cepoint.com fax: (603)883-3266 Cepoint Networks, LLC
©2002-

2013. Cepoint Networks, LLC. All rights reserved

.